Dimensional Letters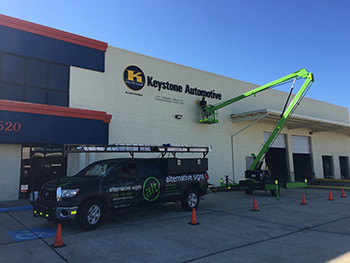 At one time, flat lettering was commonly used throughout the United States business and retail sector. However, as business owners and national brand managers became more conscientious about the quality of their brand identification, dimensional letters became more and more popular. Alternative Signs is in full swing with today's dimensional demand. We offer interior and exterior dimensional letters to our valued clients.
Interior dimensional letters:
These letters can be made using a variety of different substrates. Interior dimensional letters are commonly made using acrylic sheeting, plate aluminum and a variety of different foam products. This interior dimensional lettering is commonly installed using double stick tape, silicone and small threaded studs.
Exterior dimensional letters:
These letters are typically made using plate aluminum, butyrate formed plastics and casted aluminum. The most common installation method for exterior lettering is threaded studs and silicone. This provides our customers with a long lasting, safe installation method that we can trust won't fail us.
The high quality dimensional lettering we provide for our valued customers can be made any size, shape, color, etc. that our customers require. We can, of course, also offer our clients dimensional logos to go with their new lettering to complete their identification.