Street Pole Banners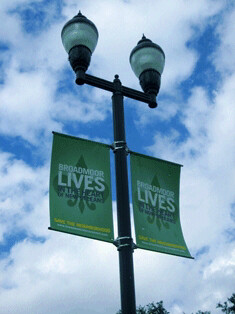 Alternative Signs & Graphics, LLC has been specializing in custom banners for years.  We have in house large format printers that print custom banners and oversized banners 'round the clock for special events that our unique city of New Orleans' hosts, the biggest of which is Mardi Gras.  Mardi Gras is a unique season in our city of New Orleans that hosts Mardi Gras balls, parties and special events 'round the clock during our 4 week Mardi Gras season.  We also produce banners and Coroplast signs for golf tournaments with their many hole sponsor signs.
Another huge festival we cater to here in our area is the New Orleans Heritage and Jazz Festival which our city hosts every year in April.  During this event, we fill orders for banners for the many food vendors, parties and special events, which all require their own custom banners displaying their event or group name.   Our in house banner department also creates grand opening banners, sale banners and coming soon banners regularly for our many retail customers.  We also offer installation for any of the banners we fabricate, especially for the oversized banners that often have more specialized installations which may require aerial lifts, specialized fabrication and unique installation methods to be hung in just the right spot and withstand the wind load.
In addition to these custom banners, we also produce street pole banners and boulevard banners for special groups and events on a regular basis.  You will find these throughout the city of New Orleans displaying the different art shows, neighborhood groups and upcoming events that our diverse city of New Orleans is constantly catering to.