Parking Lot/Out Door Lighting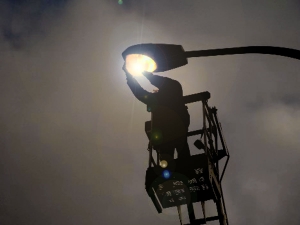 Alternative Signs & Graphics, LLC, located just outside the city of New Orleans, has been servicing the state of Louisiana for over 30 years.  We realized a long time ago the importance of keeping our many valued, local and national clients, retail and service locations well lit.  By providing vibrant high output lighting to their parking lot areas and exterior building areas, this adds a heightened level of security and safety to our valued clients locations.  In addition to servicing pre-existing high output Metal Halide and High Pressure Sodium fixtures, we also retrofit these high output systems to more efficient LED lighting.
Our business is centralized just outside one of our country's most exciting cities that never sleeps.  To handle the demands of a city such as New Orleans and its surrounding cities, we have been offering 'round the clock expedited service to our clients for over 30 years, helping our clients increase their night time visibility and presence amongst the sea of businesses and competition that New Orleans, Metairie, Marrero and several busy cities throughout Louisiana maintain.
Our lighting maintenance department employs several highly skilled lighting maintenance technicians ready to be dispatched as needed.  Our service crews cover the entire state of Louisiana, including other cities such as Kenner, Gretna and Harvey.  In an effort to try to service our clients in a more efficient manner, our service management team constantly concentrates on scheduling our clients with a regional eye to minimize travel and help us provide faster service.  For example, when our service manager has service calls in cities like Mandeville, Covington, Slidell, Hammond or Baton Rouge, he will prepare what we call a Northshore run.  We've found through the years that one of the unique areas that we service are the Bayou cities.  These cities are mainly composed of fishing, shrimping and oil industry towns.  The Bayou area of our state and our valued clients with locations in areas like Houma, Thibodaux, Laplace and St. Rose are also important to our service department and we do run our crews periodically through these cities to service these clients.
We find that micromanaging our service department is the most efficient way to service all of our clients in the quickest, fairest way possible.