Manufacturing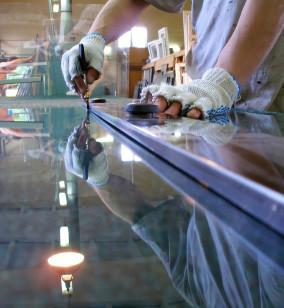 Manufacturing has always been a very important part of the sign industry.  Here at Alternative Signs & Graphics, LLC, we seek out and employ the finest sign welders, sign electrical workers and sign craftsmen that we can find.  It takes years of experience and our company does have over 30 years of experience in sign manufacturing.  Through these years, we have picked up several superior methods of sign manufacturing that allow us to make a more solid sign that can stand the test of time.
In the past, our sign fabricators have used alloy and steel MIG welding to create exterior metal signage, which has been proven to stand the test of time, however by using today's advanced epoxy systems, this allows our sign manufacturers to create more detailed metal signage, giving our customers a competitive edge in the design of their channel letter signs, dimensional lettering and various forms of manufactured signs.
One of the most common types of signs we manufacture at Alternative Signs on a daily basis is dimensional lettering.  We can literally make our customer's dimensional lettering using any available substrate such as plate aluminum lettering, acrylic lettering & foam lettering.  These custom cut forms of dimensional lettering are typically routed, sanded and painted at our facility.  We can also accommodate thicker metal dimensional lettering at our to include aluminum lettering and steel lettering using our waterjet cutter which will cut metal lettering up to 2" thick.  Some of our clients who need more of an industrial appeal use casted dimensional letters like casted aluminum lettering, casted brass lettering, etc.  Specialty sign manufacturing has little to no limits in today's sign manufacturing.  Another increasingly growing method of sign manufacturing we use at Alternative Signs is custom backlit sign cabinets with routed aluminum faced and push thru acrylic copy.  This combination helps to create a beautifully finished looking custom sign with dimension and letters that glow elegantly from the face and all edges at the same time.